Nothing draws a bigger crowd than animals. Adults and children naturally are drawn to seeing, learning and experiencing the amazing animals we share this planet with. Your audience will be thrilled to see an alligator open its huge jaws, a serval jump 6 feet in the air, and even help us hold a giant boa constrictor.
We have a wide arrangement of different set ups and displays that fit both indoor and outdoor settings. If needed, we can be completely self contained with a portable hydraulic stage complete with sound and decorations,
TYPES OF WILDLIFE EVENTS WE OFFER
Connecting your audience to the great outdoors is an easy task when animals are involved. We can set up on your supplied staging area or bring our own.
Our portable hydraulic stage complete with custom graphics, PA system, themed animal music and more is completely mobile for any event. Whether you want us for a day, weekend or a week we are prepared.
INTERACTIVE EDUCATIONAL EVENTS
Give you visitors a chance to interact with some amazing animals up close! They can have the opportunity to pet a tortoise, feed on of the largest rodents in the world, touch a snake and ask our animal experts wildlife questions.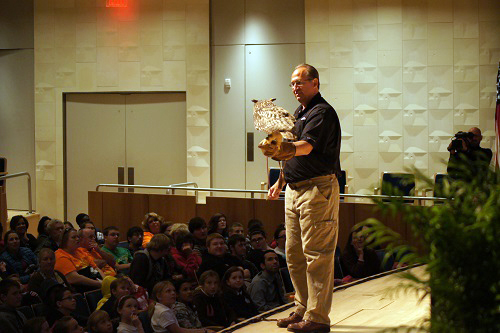 Want to bring a little "WILD" into your next conference or corporate event? With our highly knowledgeable presenters, amazing animals and high level of audience participation we will be the highlight of your event!